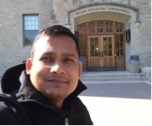 Microbiology
University of Manitoba
Supervisor: Ayush Kumar
Rakesh has completed his Bachelor of Science in Biology from Barkatullah University, Bhopal, India in 2005 and earned Master of Science in Microbiology from the same university in 2007. He worked as a Microbiologist in Quality Control Department of Novartis Vaccines and Diagnostics, AKV, Gujarat, India (From 2007 to 2008). Rakesh obtained his PhD in Microbiology from Barkatullah University, Bhopal, India in 2014. He also awarded Senior Research Fellowship and Research Associate ship from Indian Council of Medical Research, New Delhi, India (from Feb 2013 to Jan 2015). He has worked in diverse research areas, including Microbial Drug Resistance, Oral Microbiology, Molecular Biology and epidemiology. Currently he is working on molecular mechanisms of triclosan-antibiotic cross-resistance in Acinetobacter baumannii as a postdoctoral fellow in Ayush Kumar's laboratory, Department of Microbiology, University of Manitoba, Winnipeg, MB, Canada.
Rakesh is helping with the detection of antibiotic resistance genes in water samples from First Nation communities.